I am so proud about my husband being who he is to everyone! He's just amazing when it comes to relationship to people. Being a husband, a son, a brother, a friend, a citizen... I like how he dealt with anyone. This months topic in Couple's Corner is all about hubby. And this week will be "as a SON".
Oh, well, he's great! and I say his mother is so lucky and so proud to have him. And of course his father as well. Though his parent's live separate lives but both are in good relationship as well as him towards them. I can't call them broken family, instead they become one big family.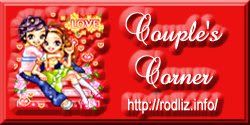 Being a son he so helpful and really kept the relationship close to his both parents as much as possible. What else could I say than being so proud about him. Inspite of circumstances HE chose to be a good son! And because he's a good son, he's a best father as well:) Happy CC!