Couple's Corners topic this week is " what my husband thinks of me as a mother/aunt" . Hmm.. no doubt, "Im the best"! hahahha.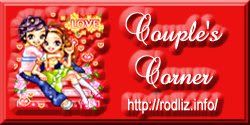 Well, I'm sorry if it sounds bragging but one thing I love being a mom is when my husband sees and acknowledge the things I did to his children, to our children. Actually, he always told me that he is so lucky and our children are so lucky to have a mother like me and yes I love,love hearing that from the father of my children. To all husband or father, please do say it, it feels good:) My husband always say thank you to me, for everything I've done as a mother. Like after feeding the baby and after eating, he taught our children to say thank you for the good food I served to them. He said he is relax and don't need to worry when he's away from us like working everyday. He knows his children are in good hands..hahahha! Well, he said I'm just kind of a spoiling mother. Well, I accept that, I can't help it:I

My children and my neice Angel during my brother's wedding.
My cutie 'pamangkin', Angel's sister Kara, at hotel swimmingpool, Palawan.
As an aunt, I'm no different like a mother to them. I talk and handle them as if theyre also my children and I love them too so dearly:) My husband sees that quite well.
Happy Mommy Moment's on mother's day special!