I'm the best sister because I'm the only sister they got! hahaha! I will no longer ask my hubby about this, he will surely agree what I'm going to say here:)
Like what I've said, I've a got a beautiful family, I can brag about that. We are all best friends. I'm the only sister they got, and small but I own their respect! We treat each other as buddies. I'm the kind of sister and yes I'm their big sister that is cool and respect them too. I'm a little boosy but just gaining and reminding them that I'm the older one...hehe. Even if I'm the only sister they got, I didn't experienced the 'over protection drama from brothers' effect. You know what I'm saying? like 'my' guys were afraid of them, specially we're from the province?:) No, I managed to show them that I can handle myself right. And it feels so good hearing them " Manang, knows what she's doing:)"
Well, I can say that I became their role model in finding the right woman for them. When my big little brother introduced his wife to us, he said; "she's a version of 'manang'(me) in attitude:) hehe not the beauty???? joke? And the second brother I remember, he's looking for a wife like me in some way:) hehe. Well, I think they got the right women for them because I really can see 'me' in their wives in some aspects specially their beauties..lol!
These are my sisters-in -law. They are apparently my little sisters I didn't have halv of my life.
Well, as friend, I tend to treat them as my sisters when they're already close maybe because I had no sisters?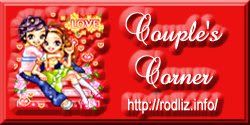 More stories here at couple's corner, join us every wednesday:) vihörs!